Taiwan

Ximending Nght. Mrkt. 101

Biker Monkey

Crazy Myou-z-Ke
Name
Taiwan
Other Names
Formosa, TW, Republic of China, ROC
Amount of maps
Many
Locations in Taiwan
Ximending, Night Market and 101 Avenue.
Based on
Taiwan (Republic of China), but mainly on Taipei, the capital of Taiwan.
First Introduced
TaiwanMS, date unknown.
Popularity
Usefulness
80%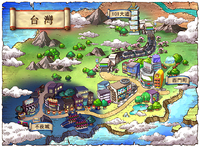 Taiwan's name differs per MS version.
It's called Formosa in TaiwanMS and ThailandMS, whilst it's called Taiwan in JapanMS.
Formosa is the name the Portugese gave to Taiwan when they came there, it translates to "Beautiful".
The areas in Formosa are based on real-life area's and events, Ximending is based on the real-life area Ximending. Whilst 101 Avenue is based on the real-life building called Taipei 101.
Pages:


Ximending


Night Market


101 Avenue


Monsters:




Mobs of Formosa


Video tours:


Ximending


Night Market